South Coast Singers
feels strongly that giving back to the community through outreach programs is an important part of their musical mission.  To that end, an annual event was established more than ten years ago.  Known as
Stars of Tomorrow
, this program provides an opportunity for young Orange County high school vocalists to compete for scholarship money intended to assist them in pursuing their career goals.   After an initial audition involving more than 35 vocalists, approximately 18 are chosen to go on to the competition. More than $5,000 in prize money is given away each year in two categories:  Classical and Musical Theatre. Judges consist of prominent local musical professionals who support this event with their time and talent.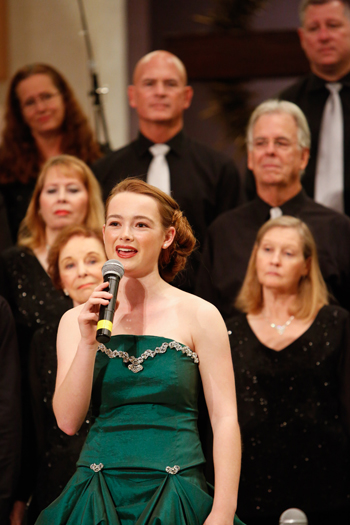 Additional Information
The 2019 Stars of Tomorrow competition will be held on Sunday, March 10th at the beautiful Performing Arts Center located on the campus of Capistrano Valley High School. Preliminary auditions will also be held at Capistrano Valley High School on Saturday, January 26th; appointments are required.
2019 Winners
Competition Winners
2019 Competition Winners
For Musical Theatre
1st Place                        Jake Akita
2nd Place                       Laura Kim
2nd Place                       Mackenzie Wrap
3rd Place                        Nini Guerry
3rd Place                        Isley Duarte
For Classical
1st Place                        Joyce Kim
2nd Place                       Grace Melody Juell
3rd Place                        Nathaniel Romero
2018 Competition Winners
For Musical Theatre
1st Place                        Alan Rodriguez
2nd Place                        Abigail Lange
2nd Place                        Jacob Kent
3rd Place                        Grace Melody Juell
3rd Place                        Taylor Evans
3rd Place                       Zach Thomas
For Classical
1st Place                        Eilyssa MacLean
2nd Place                        Elizabeth Minerman
2017 Competition Winners
For Musical Theatre
1st Place                        Allie Hunter
2nd Place                        Ashley Patrick
3rd Place                        Amanda Dayhoff
4th Place                        Jeremy Ingraham
For Classical
1st Place                        Eilyssa MacLean
2nd Place                        Emma Will
3rd Place                        Elyse Johnson
4th Place                        Maggie Liu
2016 Competition Winners
For Musical Theatre
1st Place                        Cassidy McCleary
2nd Place                        Coleton Ray
3rd Place                        Ashley Patrick
4th Place                        Eve DeVault
5th Place                        Sophie Huisken
For Classical
1st Place                        Jeannine Bauer
2nd Place                        Sydney Dardis
3rd Place                        Jennings Gardner
2015 Competition Winners
For Musical Theatre
1st Place                        Jason Rothman
2nd Place                       Kyla Stone
3rd Place                        Danielle Pribyl
4th Place                        Coleton Ray Falke
For Classical
1st Place                        Katie Minerman
2nd Place                       Sydney Dardis
2014 Competition Winners
For Musical Theatre
1st Place                        Spencer Martin
2nd Place                       Tiffany Choe
3rd Place                        Aubrey Rhodes
4th Place                        Megan Forster
For Classical
1st Place                        Alex Granito
2nd Place                       Lauren Bell
2013 Competition Winners
For Musical Theatre
1st Place                        Annalecia Wittwer
2nd Place                       Alex Granito
3rd Place                        Juan Carlos Fermin
4th Place                        Megan Forster
For Classical
1st Place                        Erin Theodorakis
2nd Place                        Pollyana Leung
2012 Competition Winners
For Musical Theatre
1st Place                        Marisa DiCamillo
2nd Place                       Collin Conway
3rd Place                        Abigail Schwartz
4th Place                        Andrew Schmitt
For Classical
1st Place                        Tiffany Choe
2nd Place                       Olivia Duncan
2011 Competition Winners
For Musical Theatre
1st Place                        Brian Silver
2nd Place                        Samantha Grossman
3rd Place                        Abigail Schwartz
4th Place                        Lauren Scudder
For Classical
1st Place                        Emma Werderman
2nd Place                       Lindsey Treff
2010 Competition Winners
For Musical Theatre
1st Place                        Hannah Schwartz
2nd Place                       Samantha Grossman
For Classical
1st Place                        Trisha Mitra
2nd Place                        Holly Starr
2009 Competition Winners
1st Place                        Matthew Lulofs
2nd Place                        Hannah Schwartz
3rd Place                        Rachel Rothman
2009 Competition Winners
Erika Peterson, 2008
Michael Casablanca, 2007
John Myers, 2006
John Myers, 2005